Quite often users have situations when they need to find their device urgently. For example, you have lost your own smartphone, or you are worried about your child, so you want to know where he is. And almost all devices have such a useful function, but how to track the location of the Android phone?
Why you might need
It's an individual thing for each person. The most trivial reason - the loss or theft of a mobile deviceespecially if important data is stored on the phone. And with the help of special services for tracking, you can not only determine the location, but also remotely clear all materials.
Another situation is tracking another person's phone, knowing their password and username. Note that in most cases this is an illegal procedure! But with this method you can detect an intruder, find a missing loved one and even save a child.
Effective ways to track the location of your Android phone
Now let's get to the most important thing. There are a huge number of ways to do this, but Most will require a Google account and installation of special services.
And, of course, cannot do without GPS. Fortunately, almost all smartphones are now equipped with this sensor. Mobile and Wi-Fi tracking is also possible. Let's take it one step at a time.
Method 1: via Google Maps
A simple and convenient option that requires, to have the phone number of the person you want to follow on hand. For example, the child's cell phone. Don't be frightened by the unfamiliar name of the app, is actually a regular Google Maps program, installed by almost every user.
If you do not have it - go to the link and download, and then install the standard way.
Now Open the settings tab, located on the left and click on "Geodata Transfer". A window appears prompting you to tell your friends your location. You can specify a specific tracking time or enable permanent tracking.
A new window appears informing you that A timeline is created based on the places you visit. This is a kind of "file" that saves your routes. What does it give you? First of all, the possibility of advanced search and automatic route selection. If you are satisfied with everything - press "Begin."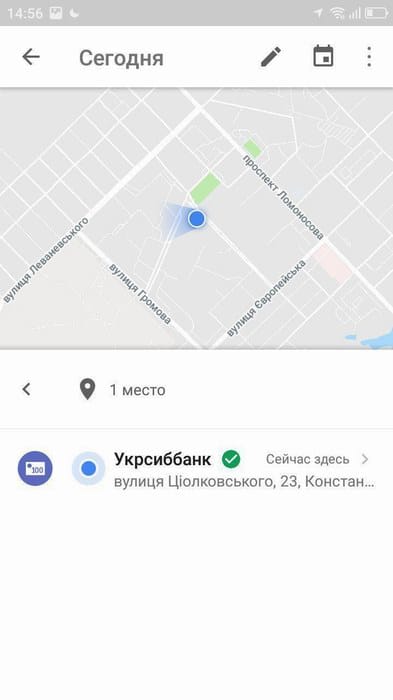 Method 3: via Android remote control
Don't forget about a special application called Find My Device, which was developed and released by Google. This utility is specifically designed to find a lost device. Using it, you can delete all materials from the device, turn on the sound search and see the phone on the map.
Download the program without any problems from Google Play and install in the standard way.
Open the app and see a screen asking you to register. You can select your Google account or sign in as a guest.


Registration window

Please note! Tracking takes place through GPSso you will not get accurate data about your mobile device if the navigation system is disconnected.

Method 4: through special applications

If none of the above options suits you, you can resort to the help of programs made specifically to determine the location of the device. In fact, such utilities are not uncommon, there are many of them, but we will discuss the most convenient and functional.

Lookout Security & Antivirus 

A good program that does its basic functions well: tracking and remote control of your Android device. Except that this is the kind of utility you can no longer find on Google Play. Use another trusted source, but be careful with viruses.

First, you need to register in your personal accountYou can find out where your smartphone is at the moment. Then you can find out where your smartphone is at the moment.

If necessary, activate the buzzer to help you find your device in the room. Note that the melody will play even when the phone is in silent mode. Also, a complete clearance of data from the phone is available. In the case of switching off the device or deleting a program, the user the last received coordinates are shown.

Real Time GPS Tracker

Another useful tool with an unconventional name. Install the program on the phone of the person we are going to monitor, register, and specify your smartphone. Notifications of the user's location will be sent there.

There are also automatic emergency messages in the utility: "On Line", "SOS", "Free". These phrases will be very useful in many situations.

X-GPS Monitor

A similar application that can be downloaded with no problems from Google Play. Is able to track specific users on the map, shows satellite and street, more accurate navigator. Of course, it is also possible to track your own movement around the city.

Exclusive feature: Built-in chat, which allows you to communicate with tracked people without having to use separate messengers.

Searching for Android by phone number

Sometimes you may need to track a specific number. This is a more specialized operation, for which some applications or services of mobile operators are suitable. 

Explicitly: using the Where's my droid program

Great utility, the best of its kind. It is freely available in the Google Store. The basic, initial version is completely free, but its functionality is a bit crude and limited:

Search for your smartphone by GPS on;
Notification if the user has changed phone number;
Search for the phone by vibration;
Alerts if the user being tracked has a low battery.

The extended version contains many more useful options, But you'll have to pay for it.We strongly recommend that you try the demo version first! Now let's take a look at the features of the premium program:

An internal camera module that allows you to take a picture remotely. So you can, for example, recognize the face of a burglar or a fraudster.
The possibility of a "perpetual" program. Quite a specific name, denoting that a person will not be able to remove the utility from his smartphone and stop tracking it.
Clearing all materials from the device, from internal memory to external storage.

Secretly: a service of the operators

It's quite an official option, which is a package with a service that must be connected for an additional fee. For example, Vodafone has a great option "The Child is Looked After." It works in online mode using SMS. You only need to send the subscriber's name to the specified number.

Almost every operator has such a function. So talk to a consultant or visit your mobile network's website and you'll always have the right user in sight.

Video tutorial

Answers to popular questions

Question: Can I keep track of my smartphone when it's turned off?
Yes, it is possible to track the location on a turned off Android phone, but You need a powerful and high-quality utility for this. Most often such applications are paid, or require root rights.

Q: If I track my subscriber's location through a special service, will he or she know about it?
No, this is a secret operation. In most cases, subscribers do not receive any notification.

Question: In Maps I have no function to Transfer geodata. What should I do?
Update this application. The option can also hide behind other names like Google Maps, Geolocation, Tracking, Friends. 

As you can see, it is quite easy to track your Android smartphone by card, there are a huge number of different ways to do this. Look for the most suitable for you - and keep in touch with your loved ones anywhere, never lose your device and always find cheaters. Good luck!