Most smartphone users often ask themselves the question - how to take a screenshot on an Android phone? And although it seems to be a very simple thing, but on different models there may be certain difficulties with the use of a screenshotter.
Screenshot, or as it is also called "Screenshot" is a snapshot of the screen. Simply put, it is a picture of exactly what is currently displayed on your model's display, captured at some point. In Windows, for example, in order to get a screenshot, all you have to do is to press just one button located on the upper right side of the keyboard called Print Screen. But today we're going to talk about how to arrange a screenshot on the Android system.
How to take a screenshot on Android
Due to the fact that there are quite a few versions and firmware android, there will also be quite a few ways to take a screenshot. "By default"On most devices on this system, in order to take a screenshot, you need to press simultaneously two buttons. The most common keys are the volume down key and the power button on your smartphone. So by pressing these two keys at the same time, you can take a picture of your device's display. Sometimes you need to hold your fingers on them a few seconds. There will be a distinctive click or other sign that the screenshot has been taken.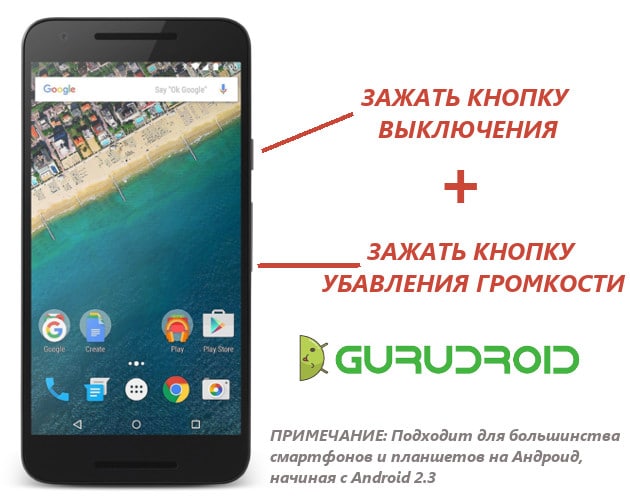 Today, this is the most common and easiest way to get a picture of the display. It is used on devices with a clean android versionand on a variety of other devices as well.
With Android 3.2 devices, however, things are a little different. You will need to press the "Recent apps" button, and then wait for a click and notification of the screenshot, release it.
And for devices with a later version of Android, things are even more complicated. They most likely will not be able to make a screenshot, so you will need to use third-party programs. Only when you set them up will you be able to take the picture.
How to take a screenshot on a Samsung Android
Since Samsung products are very popular, the manufacturer releases very often new product lines, and therefore not all Samsung devices you can use the standard keys to make a screenshot. Below I will describe several ways for different models of both tablets and smartphones Samsung.
Press the Off button and the Home button at the same time (applies to almost all new generation models)
Home button and Back button (older models)
The new smartphones from Samsung have the ability to take a screenshot using Palms, But to do this you must first enable this option in the settings - gesture control - actions when you move your hands - swipe the screen to create a screenshot
And you can use third-party programs, a few of them are described below
How to take a screenshot on Lenovo Android
The very popular company Lenovo has already conquered millions of users with their devices, and this is due, of course, to the simple and clear management of their gadgets, quick Android setup, and logical interface. Below I will tell you about several ways to make a screen on android Lenovo.
Some models have a Screen button right in the drop-down menu (located at the top of the screen, swipe from the top - down)
When you turn off the device (press the shutdown button) you may notice the same Screenshot button in the drop-down window
Standard - volume down + off button
Android app for screenshots
Google Play is a program that will help download app. Able to help take a screenshot on earlier versions of Android. Using the apps downloaded from there, you will have more options for taking screenshots.
Drocap2 for root users
Drocap2 is an application that allows you to create screenshots in formats such as JPEG and PNG. It's very easy to use. You launch the application, press start, and then go to the display where you want to take a screenshot. After that, you just need to shake your device. The app takes a screenshot by reacting to the movement of the device. But in order for the application to work, you need root rights.
Screenshot ER
Screenshot ER is a paid software for creating screenshots. It allows you to take screenshots in many different ways. You can shake your smartphone, or put it on a timer, or even run a widget on the desktop, and then the mechanism itself will take a screenshot. At the same time, the user can use Dropbox, Picasa and other services to send images by selecting the format of the image.
Bottom line. Now you should definitely be able to take a screenshot on your Android phone. Even if you have the latest (7 or higher) Android, and simply clicking the buttons did not create a screenshot, you can always read again this brief review, and even save a picture to yourself, so that you do not forget how to get a screenshot.