Many Android users are concerned about how to transfer contacts from Android to computer quickly. If you are reading this article, it means that you are among these users too. We hope that it will help you cope with the problem. Below will be described two ways how it can be done.
Method 1: Transferring numbers from your phone using the standard method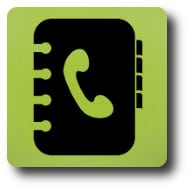 The easiest way to transfer numbers from your Android phone to your PC is to use the familiar "Contacts" application installed on it. To do this, go into it, and then select all the necessary contacts and press "Import/export". Once the contacts are open, you need to click on the three dots located in the upper corner. The desired button is located there. By following the process described below, you can move all the contacts to the desired location.
When you press "Import/export" a window will appear on the screen, where you select "Export to internal memory". Once this button is pressed, all contacts will be saved to the internal memory of the smartphone, or to the memory card, which is located in the device. Then, the file that appears "Contacts.vcf", it will be possible to transfer. Next you need to connect your phone to your computer and copy the file to the desired folder.
Method 2: How to transfer contacts from Android to computer via Google
Google contacts is a fairly convenient service that allows you to transfer numbers to your computer without any problems arising additionally. enter it, you can use a simple browser. Once you have entered the service, you need to click "More" and then find the "Export" section.
However, after that, the service will offer to return to the old version. Then you agree and again press "More" and then "Export". In the window that opens, select the format in which the contacts will be copied. You also have to select a group of contacts. Configure the export as you want and click "Export" again.
The entire process will create a batch of contacts that the browser will start downloading as soon as you click the button. Once the file is downloaded it can be opened or used for your own purposes on your computer.
As you can see, the process of transferring contacts to your computer is not that complicated. The main thing is to follow the sequence and do everything as described above.