Your system is glitchy all the time and some applications refuse to start at all? Do you think that such glitches occur because of newly installed utilities, but you don't know how to check and uninstall them? To fix such problems in your phone's operation and exists Safe ModeBut not everyone knows how to enable safe mode on Android and what it is all about.
What it is and why safe mode is needed
Safe Mode is special mode on smartphones and tablets on Android where only the system and necessary programs are loaded. For example, messages, calls, phone book, browser, and settings.
But third-party widgets, icons, games, launchers and tools become inaccessible to function, but shortcuts are. This allows you to easily remove the program that caused crashes, lags and constant reboots of the device.
Most often the user encounters such troubles after downloading from unknown sources, which is also fraught with the risk of getting viruses.
Incorrectly edited system files after receiving root rights? Don't despair, here again Safe Mode comes to help, allowing to return the resources necessary for the operating system to their original state.
If the phone literally "flies" in security mode, and at normal startup, even the screens are flipped with difficulty - The problem is exactly in the excessive installed content. Now let's get to the most important thing - how exactly to enter safe mode.
4 Ways to Reboot Android 7.0+ into Safe Mode
There is an article on our website that tells, How to get out of security modeand if there, in most cases, is enough of a banal reboot, then There are sometimes real problems with entry. There is a wide range of methods for this, which we will talk about below.
On some mobile devices it is not possible to enter Safe Mode at all. These are usually little-known, low-quality and rather cheap Chinese devices with an overly modified system.

Let's try a basic method that promises to work on the following Android versions: 5, 6, 7.0, 7.1, 8.0, 8.1. If you have a clean operating system functioning without special firmware, this option should work with a high probability.
Press the on/off button until a menu with these items appears:"Power off", "Restart device" and "Silent mode";
Click "Disconnect.", a dialog box appears. Now press the power key and wait for a vibration response.
We are asked if we want to switch to safe mode. We agree.
The phone starts rebooting. If you have successfully completed the whole procedure - there will be a watery pale inscription at the bottom of the screen "Safe Mode".
If the smartphone just turns on and all programs work as usual, or the window suggesting to switch to Safe Mode does not appear at all - try other ways, because the above mentioned, unfortunately, is not suitable for your device.
Method #2: through other key combinations
Now let's describe in detail on which models it is possible to have problems with the standard safe mode logon. If your smartphone is on the list - we recommend to follow the recommendations below.
Brand Xiaomi: turn off the phone, wait two to three minutes, and then turn it on. Before the logo appears, press all three available buttons: the volume rocker on both sides and the power key. As soon as the bunny image appears, release the power button. Works on almost all smartphones of this company.
Samsung brand: turn on the Android device and hold down the Home, Menu, and Power Off buttons until the Home screen appears. Sometimes just pressing the "Menu" button helps. Note that this method is valid for Galaxy series models.
Brand Meizu: Use the power button until the logo appears, then immediately press the volume rocker. Similarly on some LG and Lenovo smartphones.
Method #3: Reboot Options (ROOT)
Reboot Options is a special utility designed for basic phone manipulation: reboot, turn off the smartphone, recovery, Safe Mode, etc. This is ideal if, for example, physical buttons are broken or the operating system needs to be diagnosed.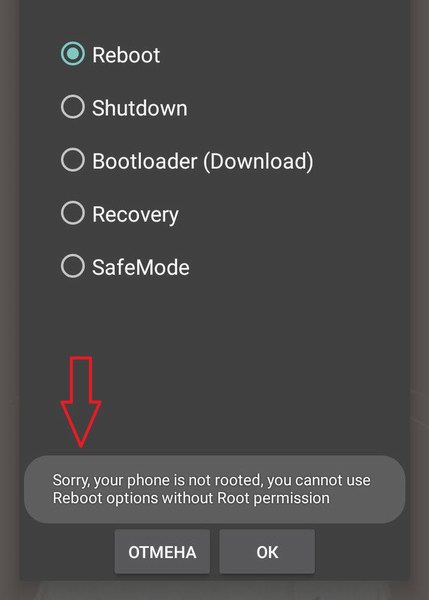 Method #4: Through the Power Manager (ROOT) application
Another useful application that has a more advanced range of features for the owner. Allows:
Turn off the phone without physical buttons;
Go to download mode;
Open update mode;
Reboot;
Urgent reboot;
Get into Safe Mode;
Get detailed information about the smartphone.
The interface is almost similar to the previous program, only in white. And again Super user rights are required for operation.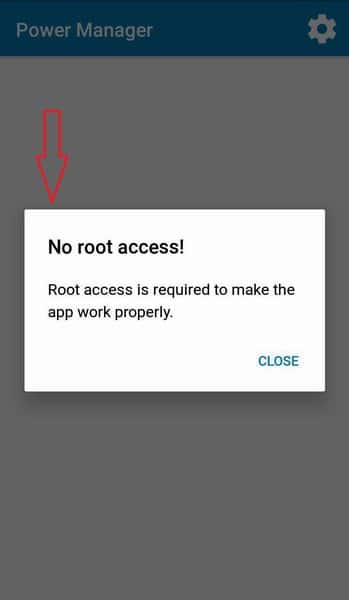 Video tutorial
As we can see, There are a huge number of ways to enable safe mode on Android. Developers also invent useful software for detailed configuration and diagnostics of the smartphone. No information about your model in the article? Write us in the comments - we'll give you all the help you need. Good luck!