Almost all modern smartphones have a great camera to capture important and interesting moments. But such videos are quite easy to delete from "Gallery" and lose access to them if there is no synchronization with cloud storage. That's why many are wondering how to recover deleted videos on Android and whether it's possible at all.
How to recover a deleted video on Android without a computer or software
There are situations when you need urgent recovery and you do not have access to a PC at the moment. Or the hard disk memory is completely full and there is no place to install a special utility. Few people know that lost materials can be returned directly on the smartphone. To do this, you can use the convenient and effective applications.
Undeleter (Root)
A popular app for Android devices that can be downloaded without any problems from Google Play or from any other reliable service in APK format, just be careful with viruses. The program is able to recover deleted messages, photos, archives and video.A large number of formats are supported, and the most common types are recovered completely free of charge.
But without rooted rights is not enough when it comes to video recordings. Super User mode is not needed only when restoring images, and be prepared for the fact that you will get only thumbnails, not full-fledged photos.
Undeleter saves data either to an external drive or to Google Cloud Storage, thus protecting the information from being deleted again. Now let's look at the algorithm of actions:
After installation, find the shortcut on the home screen and open the utility.
Immediately root rights are requested and access is granted.
In the next window, choose which memory you want to start scanning from: internal memory or memory card.
The scanning process begins, which takes up to 5-10 minutes on average. We can observe this procedure in real time.
As soon as the program finds all the deleted material, it will appear on the screen. All that remains is to select the necessary ones, check them and click on the restore button.
GT Recovery (Root)
A worthy alternative to the above application, running without access to a computer, but with mandatory root rights. GT Recovery Restores photos on Android, SMS, messenger messages, documents, and videos. Most of the features are completely free.
Run the program, choose what type of information you want to recover and again specify the memory partition. You can scan the external and internal drive for video at the same time, simply by checking two boxes. The previous app does not have this feature.
Once submitted, the standard scanning process begins. You can minimize the application and go about your business on your phone. Successful completion will be indicated by a pop-up notification in the upper bar.
Now reopen the utility and see the list of found materials and their quantity. Mark which videos you want to restore and select a folder to save them in. Now it's done. Note that only recently deleted videos are guaranteed to be found, but those erased more than a month ago are questionable.
DiskDigger (without Root)
A very simple application that also does not require a connection to a computer and functioning without root rights (if you have no rights, the program will perform a limited search for deleted videos), which is extremely rare. The first steps are similar: download, install, select a drive and start scanning.
Once the program finds all the deleted materials, you can see them in separate sections: messages, photos, videos, and from there restore. The files return to their original location, there is no function for saving to cloud storage or selecting a folder, which is quite inconvenient if there were problems with the internal memory, which resulted in the disappearance of the data.
How to recover deleted videos on Android via computer
If the above methods turned out to be ineffective, it is worth resorting to a reliable and proven method - recovery via PC. There are a huge number of special programs for this, and all we need is a USB cable, access to a PC and a good utility.
7-Data Android Recovery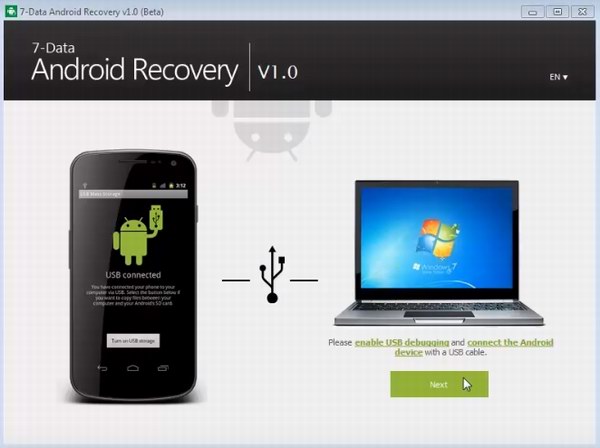 The program is specially designed for the computer and does not require root rights. Unfortunately, There is a disadvantage, though, and it's paid software. But in terms of its functionality the tool is just great, the interface is intuitive, there are no unnecessary and complicated options. So how do you restore accidentally deleted video?
For starters. turn on the smartphone "Developer mode". This is an important and necessary point.
Now Connecting the phone to the computerusing a cord.
Launching the utilityand wait for it to detect the device. Selecting a memory partition (internal or external media).
The search for remote information begins. It usually takes a little longer than in Android apps because each file is checked very carefully.
The results of the scan appear, which we view and select the desired video. Then just click on it "Save.". Please note! Save the materials on your computer, and then just transfer them to your phone. That's it, the work in 7-Data is successfully finished.
Recuva
One of the best programs for recoverydeveloped by the company known for releasing the Ccleaner utility. The application is completely free and freely available on the Internet. It is also distinguished by its extended and very convenient functionality. Let's go:
The first steps are the same as in the previous program: connect to your computer, start the tool and select the medium.
Next Recuva asks us to determine what type of information we want to recover. We see the third section from the bottom called "Video". But the thing is that when this item is activated, videos with .mp4 resolution are simply not detected by the program and it skips them without the possibility of recovery. That is why it is better to choose "All files.".
The process begins, which we watch in real time. As soon as it finishes, we see a list of materials with colored circles against the name: red, green and orange. And these are not just simple designations. Red means that the file can no longer be recovered, orange - file is corrupted, recovery success is 50/50, and green - the file will be restored without any problems.
Ontrack Easy
Quite a powerful special program, for which, unfortunately, you will have to pay. There is no free version. But the functionality is similar to the free applications, you will not find any new tools in it. Therefore, we recommend using Ontrack only when other utilities do not help, otherwise you will waste your money in vain.
How to recover deleted videos on Samsung and Xiaomi
There is an opinion that many standard operations do not work on Xiaomi and Samsung because of different Android software, but In fact, it is far from that. Firmware, of course, is very important for the smartphone, as it controls important system processes, but it is based on the Android operating system.
Absolutely all options, of course, will not be effective (in your case), but you are sure to find the most convenient and acceptable method for you.
Video tutorial on how to restore a video without Root rights
Answers to popular questions
Q: Is it possible to install the Recycle Bin on an Android device?
Yes, there is such an option. For example, Dumpster special app. In it, you specify what types of materials are sent to the garbage can, and how long they will be stored there. And then you either clear it or restore it.

Question: I deleted a video from my phone, how can I restore it without any software?
Unfortunately, video recovery without software is impossible.

Question: I deleted a video from the SD card, is there any chance of recovery?
If you have not formatted the drive, and not much time has passed since you deleted it, chances are. But if the memory card has been formatted and cleared by the system, it is unlikely that you will be able to get the materials back. To avoid such problems, always make backups.

Q: How do I insure against deleting important information?
Try enabling synchronization with any good cloud, or set up a daily system backup.
As you can see, recovering deleted videos on your Android phone is quite easy. There is a wide range of methods and programs for this. Do you have any questions? Write to us in the comments. Good luck!