Today, tablet computers can be very productive indeed. They can shoot Full HD video, have a large amount of RAM, and have the ability to play a huge number of video formats, and quite a lot of voluminous games. Of course, that's all well and good, but here goes. Where to get so much memoryto have such performance available on a good Android tablet with a small memory? And that is why the question of how to connect an external hard drive to the Android tablet is quite relevant.
The best ways to connect the HDD to the tablet
Before we start looking at the standard and well-known options: connection via USB cable, OTG, Let's talk about new and quite convenient methods.
Wi-Fi drive
A real innovation that peaked in popularity in 2017. It is a hard drive that connects to the device wirelessly via Wi-Fi network (there are analogues with Bluetooth as well). This automatically eliminates the tedious selection of appropriate wires and all sorts of adapters.
Memory capacity is usually measured in terabytes, and that's definitely enough for any user. Works on mobile operating systems (Android, IOS), is also compatible with PCs and laptops running Windows. Supports a wired connection.
In its functionality resembles an ordinary flash drive, but differs significantly from it with more memory, faster synchronization and the ability to connect wirelessly.
Like any device, this drive has a few drawbacks:
Rather high cost. Of course, it will require a lot more money than buying an OTG adapter or USB wire.
The battery lasts only a few hours. With active use, you will have to charge the drive every 2-4 hours. And only the most expensive, high-quality and new models have a built-in recharging module.
A Wi-Fi hotspot is required. You will be "tethered" to the Internet all the time, and in places where it is not available - The only option would be the already well-known and annoying wired connection. 
USB Media Explorer (Nexus Media Importer) software
Decent solution for users who do not understand cables and did not want to buy special adapters. Connection is made with the help of USB, and all the rest of the work is done and configured directly by the software.
The application is freely available for download from Google Playby paying only About $3. The program works without problems on almost all models of all brands (the exceptions are unknown and too cheap Chinese phones). Still, to be on the safe side, we recommend that you read the free trial first. 
Three ways to connect a hard drive to an Android tablet
Of course, an experienced user of memory, no matter how much you connect it - it will always be not enough, but there are still situations when you need to download to the device serious, quite "heavy" files, or to work on it with the consumption of memory, and then there is a need to connect an additional device, that is HDD.
Connecting an HDD via USB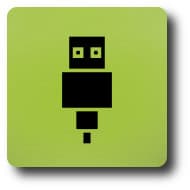 In order to do this simple process, you will need to have a wire with USB to MicroUSB output. One side connects to the hard drive and the other to the tablet. Once connected, you will need to wait a little while (the first synchronization of the disk and Android can take several minutes).
As a result, a message should appear on the screen that the system is trying to synchronize with the device, and if successful, we get an external drive like SD cards.
You may also be interested in the article "How to connect a smartphone to a computer via USB".
Connecting an external hard drive using OTG
Let's start by explaining to newcomers, what is OTG. It's simple, despite the loud capital letters, it's an ordinary adapter cable. With it you can synchronize the device with a mouse, keyboard and other means of convenient control.
Buy it only if you are sure that you will not be able to connect the hard drive otherwise.
Connecting the HDD to the tablet through the app
Stick Mount is a free applicationwhich will have to be used if the two options described above do not work for you. But there is one "but"You will only be able to work with the application if you have received Super User Rights. You will also need something as a file manager that has access to the system files, Total Commander For example.
Another good option is File manager under the simple name "ES Explorer. You can learn more about it in the article "How to open a zip archive on Android". The application provides excellent conditions for storing a large amount of useful information, plays almost all video, document and image formats without problems. Cleans up cache, works with Bluetooth.
Now back to our procedure: after getting a root on the tablet, you need to give the app the appropriate usage rights. Only in this way the connected HDD will be recognized and synchronized. After a successful connection you will see an address where you will find all your folders with files (this is where we need the file manager). Once you are in the root folder of the system, you will need to go to the root of the external hard drive. Done.
Nuances when working with an external hard drive
Now that you're familiar with all the available and convenient ways, we invite you to read a little advice related to them as well. Some useful tips:
When choosing an external drive, do not buy a drive with a huge amount of memory. You won't be able to fill the entire volume anyway, but the load on the device will be significant because of this. The result: slower performance, faster battery discharge. The ideal is 1 or 2 terabytes (this amount will be more than enough to store games, music, photos and programs).
Do not buy a disk that has too high a RPM. The reason is the same as in the first case.
There are two common file formats: NTFS and FAT32. For most tablets the second file system is more acceptable. And if the drive is running under a different one, the device may not see the materials stored on the drive. But there is a solution, and it is the installation of special programs, who are in charge of adjusting and configuring formats.
Video instruction
These are the simple ways we were able to find out how to connect the HDD to the tablet.